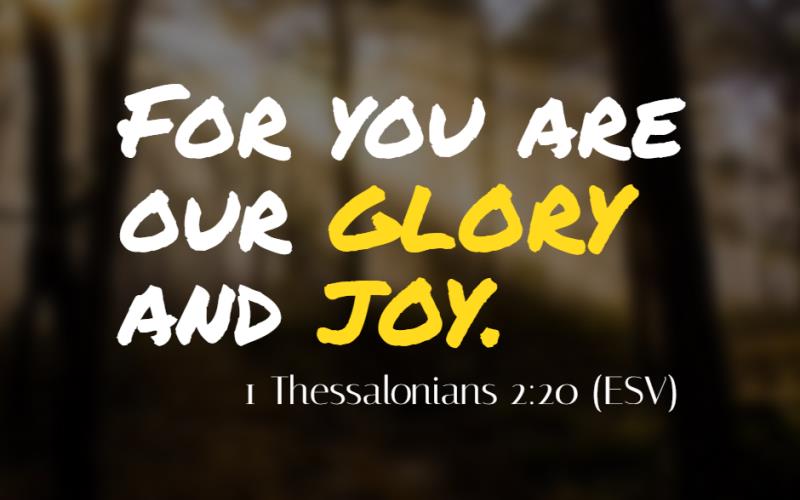 Warm up questions:
How do you most often express your love for others?
How do others show love to you?
Let's read the passage (1 Thessalonians 2:13-20) with the following questions in mind:
What does it say?
Briefly summarize the end of this chapter: "We shared the gospel with you and also our lives. You suffered like the churches in Judea. We tried to see you. Are you not our crown?" – Chris Juby (Biblesummary.info)
What does it mean?
In what ways would Paul's writings be encouraging to the Thessalonians?
In the previous verses, they were told that their persecution was because of accepting God's Word had not gone unnoticed by Paul or by God. Their suffering was not unique and that they had become imitators of the churches in Judea and Christ Himself. Here we read that Paul really wants to be with them; even though his way is blocked The reason was that they were very precious to him and he loved them very much.

What was Paul's feelings for the Thessalonians? What phrases does he use to express these feelings?
Even in romance settings, it's often difficult for us to share our true feelings with others. When we were dating, Mitsuyo often noticed that I used very little "poetic language." Here however, Paul shares his feelings with very direct words and phrases.
But we, brethren, having been taken away from you for a short while—in person, not in spirit—were all the more eager with great desire to see your face. (v 17).
"Having been taken away from you" is taken from the Greek word "aporphanisthentes" which only appears once in the Bible. This can be translated as "having been bereaved" like at the death of a loved one or literally "to be separated and leave as an orphan" … reflecting Paul view of them as family. It's striking word to use. "In person, not in spirit" – He can't see their faces now but but in his inner man, his heart, his is there with them still. "Great desire to see your face" – This is same even today. Maybe you have a loved one or close friend that is far away. It's not difficult to imagine this feeling. Facetime, Facebook, it's the heart of social media.

For we wanted to come to you – I, Paul, more than once – and yet Satan hindered us. (v 18)
He says "We want to come to you. " Notice there is nothing about expecting them to come to him. To make it clear, it says "I Paul" showing his personal feelings to go. "Satan hindered" – The only reason they were not there is because of a supernatural enemy at work. There could have been various actual reasons for this. But this hindering is not like the Holy Spirit that forbade Paul to enter Asia but go to Macedonia. This word is more like destroying a road making the way impassible.
For who is our hope or joy or crown of exultation? Is it not even you, in the presence of our Lord Jesus at His coming? For you are our glory and joy. (v 19 -20)
Today we celebrate Palm Sunday. As Jesus entered Jerusalem, the crowds received Him. They laid down palm branches and rejoiced at His coming. Here Paul is saying they are that same thing for him. They are his reason to boast, not in himself but in Christ. Paul's lavish praise seems like the words of a proud father watching the successful accomplishments of his own children. He is placing his hope in them that although he isn't there that God will continue to work through them as well; not only in this life but when Christ returns
How do these desires reflect Paul's love and caring?
We loved you so much that we shared with you not only God's Good News but our own lives, too. (1 Thes 2:8 NLT) So, when hearing that these precious loved ones were suffering, it grieved Paul. He very much wanted to do something about it but couldn't; no matter how often he tried. How helpless that must have felt. In a partial response to this, Paul is writing to them to encourage them. Lord willing, next time, we'll hear what else Paul did to try and help them. So, how do these desires reflect Paul's love and caring to them? It lead to action.
What does it matter?
For this passage, we learn a few very practical applications to help us better at expressing love to others: 
Encouraging others: especially when they are in times of trial or suffering.

What does that look like for you?

Visit other to "see their face"
Go deeper and fellowship with them to know their heart
Look for the praiseworthy things in others and give thanks for that
Although embarrassing, be open about your feelings to others
So, how can we (as an individual or group) help love increase within our church family?
First and foremost, have a solid relationship with God, setting Christ as Lord of your heart. With this as a basis, we can love others with God's love through the power of the Holy Spirit. Realize that the believers around you are precious in God's sight… and so are you. Remember that if we have the hope of eternal life… this means that we will be spending a lot of time together. With that in mind, it should be easier to focus on the long-term, eternal goal rather that petty, fleeting concerns. Finally, let your love lead you to outwarding expressing it in words and deeds.

Note: Some of the questions were taken or modified from a study found here: (http://test.ivpress.com/bible/study.php?study=514)