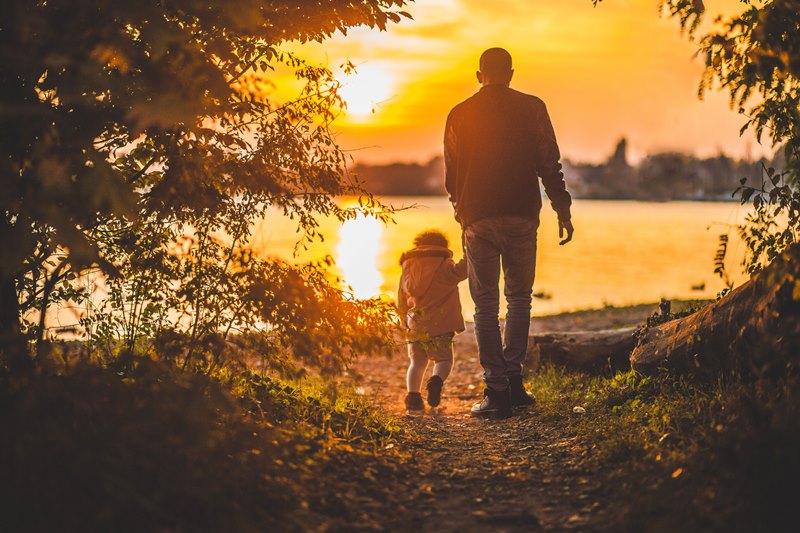 Warm up question:
Today we're celebrating Father's Day. Maybe children the world over are struggling to know what to give their fathers… New tie, another golf towel, macaroni covered pen holder.. you know what I mean?
But ultimately, what do you think a father (or any parent for that matter) wants from their children?
Let's read the passage (1 Thessalonians 3:1~13) with that question in mind:
What does it say? 
To Briefly summarize this section.
What does it say? 
Chris Juby (Biblesummary.info) briefly summarize this section by saying: "We sent Timothy to strengthen you. We warned you that persecution would come. We are encouraged by your faith. May you grow in love." (1 Thes 3)
What does it mean?
Let's review and give some background to this passage. Here we end the first movement of this letter. Chapter 2 we learn that the Thessalonians had become very dear to Paul, Silas, & Timothy that they became thinking of them as their parents. Paul tells them that although stripped away from them that he can't stop thinking about them and longs to see their face. Sadly, as Paul personally tried, he was blocked from going there (health, Jewish persecution, Macedonian authorities, we don't know).
Verse 5 we learned that Timothy went to Thessalonica for concern that they had been tempted to turn from the faith or had been made ineffective because of some rampant sin. Remember, they were all baby Christians in a fledgling church and with no pastor facing persecution.
Thankfully, Timothy was able to stay for a while and further establish and exhort them in their faith. And Verse 6 says Timothy had come back with "good news" … every other place this Greek word used as a name for the Gospel. This news was that good to Paul he equates it with the Gospel!
What "good news" did Timothy bring back to Paul? They were doing surprisingly well. They were full of faith and agape Christian love; even while under persecution. And they remembered Paul kindly and want to see him again too. Good news indeed!
"We are encouraged by your faith"
Verse 7 – for this reason, brothers, in all our distress and affliction we have been comforted about you through your faith.
The image here seems to be pressing in from all sides; choking & crushing; with arms raises. However they we refreshed, cheered also strengthened. By what? Strengthened by their faith. It's all worth it.
Verse 8 – For now we [really] live, if you are standing fast in the Lord.
In other words, "we can breath easy." It's almost a military term, like "holding the line." Paul felt that he could now "pass on the torch" over to them.
Verse 9 – For what thanksgiving can we return to God for you, for all the joy that we feel for your sake before our God,
Paul and the others had been empowered to give thanks. And there weren't words can't express their joy.
Verse 10 – as we pray most earnestly night and day that we may see you face to face and supply what is lacking in your faith?
The expression "night & day" is based on the Hebrew way of time but meaning is clear enough here. He is longing to see them – How many times has he said this right? He didn't want them to miss that point. Here, Paul seems to saying that he wanted to visit not to correct err or rebute them. Instead the verb here is the one used for mending nets. He wished to provide them with a more comprehensive teaching to increase their faith.
"May you grow in love": Prayer for Endurance
Verse 11 – Now may our God and Father himself, and our Lord Jesus, direct our way to you,
Here we are reminded that God the Father and Jesus working in unison as part of the trinity. And again, Paul is still expressing his desire to be with them; now in prayer.
Verse 12 – and may the Lord make you increase and abound in love for one another and for all, as we do for you,
He prays that they might grow in quantity and also quality "to super-abound," Also that there would be a great excess of pure Agape Christian Love in three separate ways:
∎ First for each other
"A new commandment I give to you, that you love one another: just as I have loved you, you also are to love one another. By this all people will know that you are my disciples, if you have love for one another." – John 13:34~35 As a church when we heavily focus on only evangelism, we can tend to ignore this. But for the sake of the Gospel message itself, we should love one another.
∎ Then to the world
"You have heard that it was said, 'You shall love your neighbor and hate your enemy.' But I say to you, Love your enemies and pray for those who persecute you," – Matthew 5:43~44 No doubt that they were struggling. However, Paul is praying that even in the face of their enemies that they would share Jesus' Love with them.
∎ Reflecting the Love that we've received from God; directly or through others
Thessalonians were loved by Paul, Silas and Timothy who were themselves love by prior Christians and ultimately Christ himself. Thessalonians will reflect that love to others whom will carry it across Europe and Asia and somehow even to us today. Anyone who does not love does not know God, because God is love. In this the love of God was made manifest among us, that God sent his only Son into the world, so that we might live through him. – 1 John 4:8~9 The moon is the brightest thing in the night sky but it has no light of itself own but only reflect the light that it received. As believers, we are like the moon reflecting the Love that we have received to others.
Verse 13 – so that he may establish your hearts blameless in holiness before our God and Father, at the coming of our Lord Jesus with all his saints.
Love is the goal here but it's also leads to other things: holiness & hope. For example, read how Jesus explains how Love leads to Holiness: "If you love me, you will keep my commandments." – John 14:15 Also love lead to hope; hope of Jesus' return: And hope does not put us to shame, because God's love has been poured into our hearts through the Holy Spirit who has been given to us. – Romans 5:5
So, how does love establish holiness and Hope of Jesus' return? How can we do these things? Thankfully, that's what that the rest of the letter addresses. So, we'll leave that for here today.
What does it matter? 
We asked, "what do you think a father (or any parent for that matter) wants from their children?" We've seen this morning that Paul's desire reflects a father's heart. He prayed that his children in the faith would:
∎ Abound in love
∎ Reflect the good things seen in them
∎ Go on to do even greater things
∎ Carry the torch to the next generation
Paul's desires here seem to reflect God's heart as our Heavenly Father as well. First, that we each have an intimate relationship with Him. We do that by confessing Jesus as Lord and believing in your heart that God raised him from the dead. Then since God is Love, we are to love as well. By loving others (even the unlovable) it reflects God's character. Through this love it allows us to be established in other spiritual areas; like holiness and hope.
Let's pray
I pray that our God and Father himself, and our Lord Jesus, make you increase and abound in love for one another and for all, as we do for you, so that he may establish your hearts blameless in holiness before our God and Father, at the coming of our Lord Jesus with all his saints.
Note: Some of the questions were taken or modified from a study found here: (http://test.ivpress.com/bible/study.php?study=514)