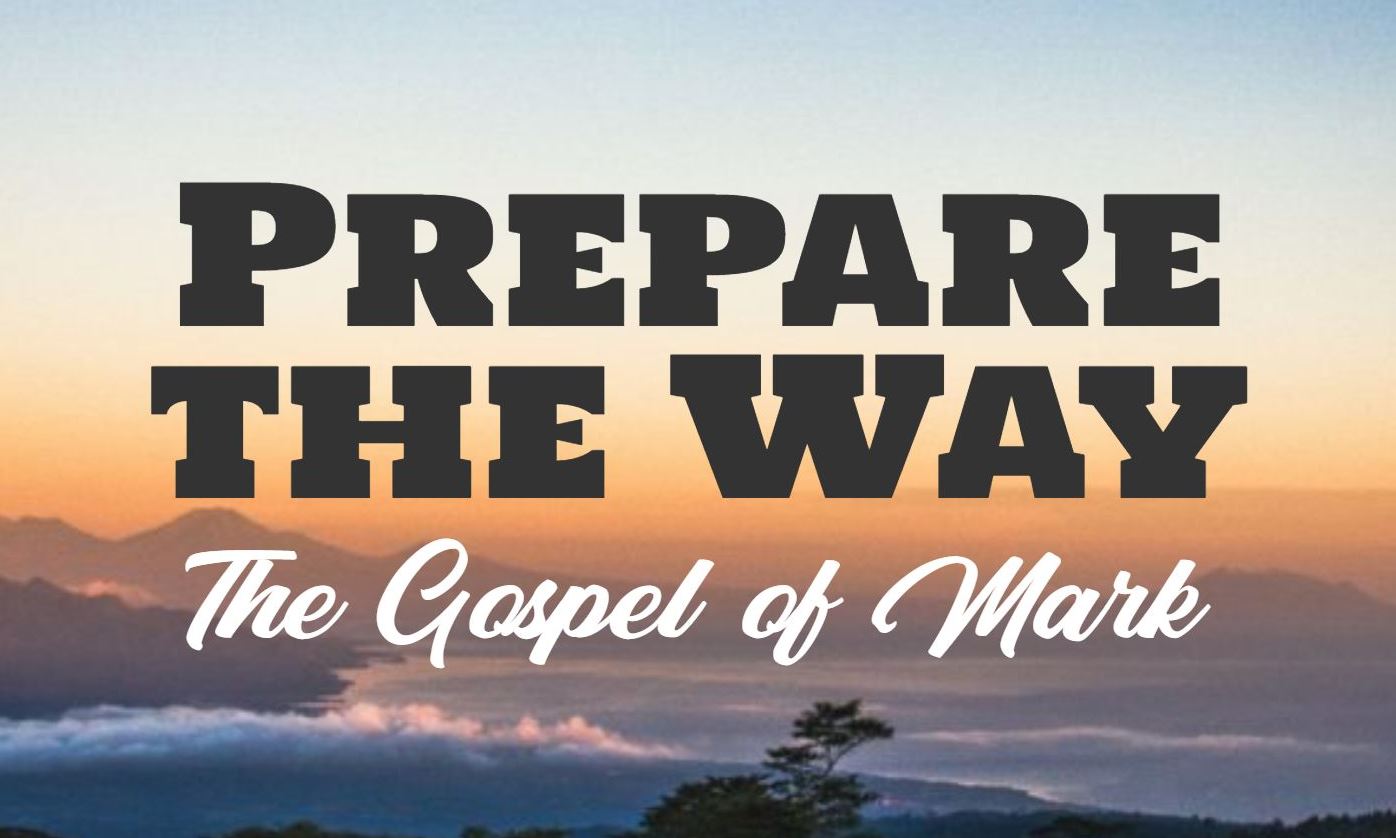 Warm up question:
How would we prepare for a very important guest?
Let's read the passage with the following questions in mind:
1 The beginning of the gospel of Jesus Christ, the Son of God. 2 As it is written in Isaiah the prophet,

"Behold, I send my messenger before your face,
who will prepare your way,
3 the voice of one crying in the wilderness:
'Prepare the way of the Lord,
make his paths straight,'"

4 John appeared, baptizing in the wilderness and proclaiming a baptism of repentance for the forgiveness of sins. 5 And all the country of Judea and all Jerusalem were going out to him and were being baptized by him in the river Jordan, confessing their sins. 6 Now John was clothed with camel's hair and wore a leather belt around his waist and ate locusts and wild honey. 7 And he preached, saying, "After me comes he who is mightier than I, the strap of whose sandals I am not worthy to stoop down and untie. 8 I have baptized you with water, but he will baptize you with the Holy Spirit."

Mark 1:1-8 ESV
What does it say? 
To simply summarize this new passage:
This book is about Jesus Christ who is the Son of God.
There were prophecies that one who come before Him as a messenger.
John the Baptist was that messenger
What does it mean?
● Introduction to The Gospel of Mark
The author is anonymous. But traditionally, it was thought that it was written by John Mark, the cousin of Barnabas. He was later a helper to Peter. So, it was thought that John Mark later wrote down Peter's account. Some consider this to be the earliest of the four gospels (about 55 AD).
So, why are there four gospels anyway? There is a longer answer for this but to keep it short… Each gospel seems to be was written for different audiences (Jew, Greeks, Romans, etc) Each gospel has a special focus and emphasizes the same events in different ways. This different perspectives from each author create a deeper and more three dimensional view than only one account.
Gospel of Mark is a fast moving account of Jesus' ministry as an adult; beginning with His baptism. It seems that the book was written for people not very familiar with Jewish customs; like the Romans and eventually us today.
● Jesus Christ is the Son of God.
So, what is the first, main focus in Mark? Mark doesn't pull any punches. He tells us in the first verse: Jesus Christ is the Son of God. Adam, the first man, was made by God but this is not the same as being a natural son. The title Son of God speaks to Jesus' nature as God's begotten (not made) Son. It also expresses Jesus' holiness and justice. This title also reflects Jesus' heavenly kingly authority as God's chosen Messiah. In addition, there is deeper implications for Jesus being this redeeming king; I hope to talk about later.
● Kingly Herald
Who will announce the coming of this Messiah? Verse 2 and 3 say that prophecies from Isaiah (and also Malachi) long ago would confirm His arrival. That confirmation would be a messenger proclaiming the redeeming king is soon to arrive and preparing the way for His coming. In a way, this is not so uncommon for us today.
For example, if Emperor Akihito or Prime Minister Abe decided to visit this area, what would you expect to happen prior to their visit? There would be general press releases and nation news reports made far in advance. Most likely an appointed official would come to verify that the preparations here were properly done. This official might make sure that announcements were sent out and that the general area would be cleaned; special areas prepared; any worrisome obstacles removed, etc.
However, instead of press releases weeks or months before, Jesus' arrival was prophesied centuries before. Instead of an appointed government official, God selected a man called John the Baptist. And his preparations were unlike any an official for a government leader would perform.
● John the Baptist's credentials as God's appointed messenger
We read in other Gospels the remarkable details of the birth of John the Baptist who was born a few month before Jesus (Luke 1:57). This fulfilling the prophecy that he would come before the Messiah (v 2). He had learned to live in the desolate places from a young age (Luke 1:80). However, here Mark jumps right into his appearing as an adult.
His unusual clothing (v 6) were made from materials found easily in the desert. Although strange to us, they were not unheard of at the time. It distinguished him as prophet, since a great prophet Elijah once wore the same outfit (2 King 1:8).
His food of locust and wild honey. He didn't eat anything grown; only that could be found in the wild (v 6). So, he relied solely on God even for his food. Because of this, he could not be bought off by man.
As he come to the people to proclaim his message; the prophecy was fulfilled that one would come from the wilderness. (v 3)
● What was John's message?
As the prophecies also foretold, "Prepare the way of the Lord." He as "proclaiming a baptism of repentance for the forgiveness of sins." Let's break this down in and explain each part. "Repentance" is the turning away from our sins and turning to God. Publicly confessing that we sinned and renounce it. "Baptism" was an act of cleansing with water. This represented the forgiveness from God to those who believed and acted.
God was using John in amazing ways to remove obstacles in people's hearts and preparing for the coming of the Messiah. All around a steady stream of people from Judea, including the city dwellers from Jerusalem, were flocking to the Jordan River to hear this message of repentance. They were confessing their sins and be baptized. (v 5) Hallelujah! What an incredible time it must have been!
● The One that is coming
However, as much as God was doing through John, he also preached that He was not the Messiah. John went so far to say that he was unworthy untie the Messiah's sandal. The untying of sandals was done before a house guest entered the bath. This task was performed by the youngest or lowest slave in the house. John's reminded them that he was only baptizing with water. Water works well to wash off dirt but baptism of water does not wash sin; it's symbolic. But the One who is coming would baptize with something very real and powerful.
What can cleanse our heart of sin? What can remove our guilt and shame?What is the only thing that can make us accept and pure before a holy God? John tells us that it is Holy Spirit; the third person of God Himself. Who on Earth has the authority to baptize in such a way? Only Jesus, the Son of God. This was John's message to the world: Proclaiming the coming Messiah.
What does it matter?
What an remarkable man, John the Baptist! Even Jesus agrees with this. Listen to what He said when talking about John: "Truly, I say to you, among those born of women there has arisen no one greater than John the Baptist…" (Matthew 11:11a). Amazing. If only there were people like him among us today… don't you think?
Now keep reading… "…Yet the one who is least in the kingdom of heaven is greater than he." (Matthew 11:11b) This means that in these days, anyone who believes and follows Jesus is even greater than this amazing man, John the Baptist!
Wait, how could such a things be possible? Honestly, I don't feel like I'm greater than John the Baptist. Do you? First, remember as we said, The Gospel of Mark emphases that Jesus is the Son of God. This royal and holy title is very fitting for God's begotten son. However, listen to this remarkable claim in the Gospel of John: But to all who did receive him [Jesus], who believed in his name, he gave the right to become children of God, who were born, not of blood nor of the will of the flesh nor of the will of man, but of God. (John 1:12~13 ESV)
Amazingly, because of Jesus' great sacrifice on the Cross, God now has given even us the right to have the title of sons and daughters of God; when we believe in him. As we learned in our earlier study of Colossians 1: the mystery hidden for ages and generations but now revealed to his saints. To them God chose to make known how great among the Gentiles are the riches of the glory of this mystery, which is Christ in you, the hope of glory. (Colossians 1:26-27). The mystery of the Gospel is Christ in us which is the hope of glory! Therefore as Christians (like John the Baptist did at the Jordan), it is our calling and our joy to share this Good News that we know to those around us; preparing them for their own encounter with Jesus.
As always, it is a matter of putting our complete trust and faith in Jesus to do that. Will you pray with me about that today?