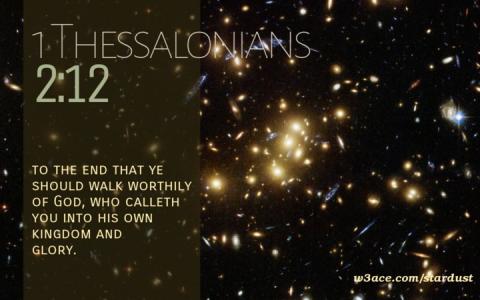 Warm up questions:
What do parents want for their children?
What will parents do to achieve this?
Why would they be willing to do this?
Let's read the passage (1 Thessalonians 2:1-12) with the following questions in mind:
What does it say?
Simply summarizing this new passage in no more that a few sentences.We might say, "We shared the gospel with you and also our very lives. We loved you and treated like our own children."
What does it mean?
As we discussed last time, there were various rumors being spread about Paul, Silas and Timothy. In practical ways, how did their conduct defend these accusations?
Truthful; no lying nor impure motives
Not looking for others' praise
Honest to a fault; no flattery
Not looking for money or power (even though they had the right)
Took on the role similar to parents
Who covered their expenses while in Thessalonica? Why?
(See also: Acts 18:3; Phil 4:16, 2 Cor 11:7-11)
They worked themselves making tents (Acts 18:3). Church in Philippi provided for the ministry (Phil 4:16). They later also provided in Corinth as well (2 Cor 11:7-11). Why? They didn't want to be a burden. More importantly, they didn't want to confuse anyone of their pure motives.
In what ways did they seem to have taken the role of parents to the Thessalonian church?
In general, Paul and the others labored and sacrificed to bless the church and not be a burden. They taught and shared what they knew and became a living model to imitate.
They acted as a nursing mother (or wet-nurse). They were gentle, nurturing, loving like you would be to little children. They were looking to feed and care for them; not physical food but God's good news of salvation (milk). They had such an "extraordinary tenderness" (unique Greek word could even be "fierce yearning") to cause Paul and the others to share his very life/soul with them
They also acted as a loving father, They idea here more of humble "servant-leader"; not a cruel dictator. They exhorted. Urge, advise, or caution earnestly to turn from sin and God's wrath and turn to Christ for salvation. They encouraged. Support and motivate by reminding the church about the freedom that Jesus' sacrifice gives to those who believe in Him. They implored. Beg, challenge, make private appeals to keep on following Christ and doing what glorifies God.
What seems to be Paul's ultimate goal for the Thessalonians?
"Walk in a manner worthy of the God." To imitate what they've seen in Paul. Their actions should match their words. "… please Him in all respects, bearing fruit in every good work and increasing in the knowledge of God;" (Colossians 1:10b). "Who calls you." This call is not an external call heard with our ears; although we hear the gospel. It is an internal spiritual call in our heart by God Himself by His Holy Spirit. "Into His own kingdom and glory." Bring us from the darkness into the light. Out of the this world's system into God's way of living. When we are faithful to do this God is glorified.
Looking wide, what can we say is the heart attitude of a minister of the Gospel? (v.1-12)
To summarize, the heart attitude of a minister of the Gospel is acting as spiritual parents to all those under their care. "Christian Leadership is about relationships and loving service." – Timothy Mackie cofounder of the Bible Project. This sets the bar pretty high for anyone wishing to be a pastor or any form of minister. We at Kodo hope to reach this goal ourselves. But we must admit that we too are a work in progress.
Even still what about a more fundamental question for each of us…
What does it matter?
Paul claims to have been "holy, righteous and blameless" (v. 10) among the Thessalonians. If this is important, how can we as imperfect people dare to evangelize anyone?
In Philippians 3, Paul himself says that he has no righteousness of his own but only which is through faith in Christ. And even in this, he admits that he was still pursuing it. "Not that we are adequate in ourselves to consider anything as coming from ourselves, but our adequacy is from God" (2 Cor 3:5). "But we have this treasure in earthen vessels, so that the surpassing greatness of the power will be of God and not from ourselves;" (2 Cor 4:7)
In what specific ways can gentleness and caring become more a part of evangelistic efforts?
We reflect the goodness God has already shared with us. "Therefore, we are ambassadors for Christ, as though God were making an appeal through us; we beg you on behalf of Christ, be reconciled to God." (2 Cor 5:20). Ultimately, we model God's character to others.
Conclusion
Let us walk in a manner worthy of the God who calls you into His own kingdom and glory. It starts before we start trusting in Christ, to earnest listen for that calling from God
When we turn from sin and to God, we begin to walk with him. "… In your hearts honor Christ the Lord as holy, always being prepared to make a defense to anyone who asks you for a reason for the hope that is in you; yet do it with gentleness and respect," (1 Peter 3:15~16)
Note: Some of the questions were taken or modified from a study found here: (http://test.ivpress.com/bible/study.php?study=514)