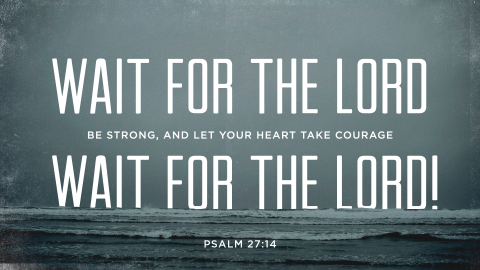 Reading: Psalm 27:7-14
Hear, O Lord, when I cry with my voice,
And be gracious to me and answer me.
When You said, "Seek My face," my heart said to You,
"Your face, O Lord, I shall seek."
Do not hide Your face from me,
Do not turn Your servant away in anger;
You have been my help;
Do not abandon me nor forsake me,
O God of my salvation!
For my father and my mother have forsaken me,
But the Lord will take me up.

Teach me Your way, O Lord,
And lead me in a level path
Because of my foes.
Do not deliver me over to the desire of my adversaries,
For false witnesses have risen against me,
And such as breathe out violence.
I would have despaired unless I had believed that I would see the goodness of the Lord
In the land of the living.
Wait for the Lord;
Be strong and let your heart take courage;
Yes, wait for the Lord.
Review v.1-10
King David in a dangerous situation wasn't fearful. Why could he be so confident? Because David knew God intimately. Freed from fear, what was King David's desire? Just one thing… One thing I have asked from the LORD, that I shall seek: That I may dwell in the house of the LORD all the days of my life, To behold the beauty of the LORD And to meditate in His temple. – Psalm 27:4
He knew that the best place to be in a spiritual battle is in God's presence. David's response to God answering his prayers was joyful thanksgiving and praise. But it seemed that King David didn't stop there but went on to boldly ask for God to hear and answer his request. What was it? To seek the God's face. What does that mean? To seek "God's presence" How could David be so bold before his God? Because God was first calling David to Himself. David wasn't being presumptuous; He was being responsive! He was holding God to His Word.
For us today, we know that we also can seek God's face. However, sin in our lives our hinders access. But through Jesus' death and resurrection, we can confess our sins and be made right with God.
Introduction
Chris Juby of @biblesummary: 3 year twitter project summarizing of each chapter of the Bible; one tweet a day. This is his 140 character summary for Psalm 27: "The LORD is my light and my salvation. My heart will not fear. I will seek your face, O LORD; do not forsake me! Wait for the LORD."
"Wait for the Lord" … So, who likes waiting?
Verse Study
Verse 11
Teach me Your way, O Lord, And lead me in a level path because of my foes.
Teach me your ways…
"You will make known to me the path of life; In Your presence is fullness of joy; In Your right hand there are pleasures forever." (Psalm 16:11) "The steps of a man are established by the LORD, when he delights in his way; though he fall, he shall not be cast headlong, for the LORD upholds his hand." (Psalm 37:23-24 ESV)
The need for level path.
David was living in a time and place where straight and level paths were hard to find. Living in a rugged, broken terrain, this was a very practical request. What would be the advantage of being on a level path? Able to move faster and cover move distance. Of course, this analogy for the spiritual life as well.
Pursued by enemies
"When evildoers came upon me to devour my flesh, My adversaries and my enemies, they stumbled and fell." (Psalm 27:2) His enemies fell because they won't follow God's way. "There is a way which seems right to a man, But its end is the way of death." (Proverbs 14:12)
For us today
When faced with an trial or difficult task, how do we normally navigate it? Do we seek God's face for His direction and wisdom? Sadly, we can so often come up with our own solution; the heart of this is pride.

Verse 12
Do not deliver me over to the desire of my adversaries, For false witnesses have risen against me, And such as breathe out violence.
For David, these were physical enemies. For example his own king, King Saul and the king's advisors wanted him dead. In 1 Samuel 24 we read that King Saul went searching to kill young David. Even though he entered the cave where David was hiding, David didn't kill him because David obeyed God's word.
David persuaded his men with these words and did not allow them to rise up against Saul. And Saul arose, left the cave, and went on his way. Now afterward, David arose and went out of the cave and called after Saul, saying, "My lord the king!" And when Saul looked behind him, David bowed with his face to the ground and prostrated himself. David said to Saul, "Why do you listen to the words of men, saying, 'Behold, David seeks to harm you'?" – 1 Samuel 24:7-9
For us today
Just like the great warrior David, what is the only effective weapon we have to fight against false accusations? Only the Lord.
Verse 13
I would have despaired unless I had believed that I would see the goodness of the Lord In the land of the living.
I would have despaired (fainted)…
This phrase is implied from the translation. Sure, David was confident in the Lord but it wasn't easy. He was just a man like us and had his time of testing and doubts.
Unless I had believed
It was belief that drove out these doubts from David's heart and allowed him to stand firm.
Goodness of the Lord In the land of the living.
That sounds like another mysterious phrase. What do you think it mean? God would be good and merciful to David. Simply, the salvation and deliverance of the Lord.
For us today
For He says, "AT THE ACCEPTABLE TIME I LISTENED TO YOU, AND ON THE DAY OF SALVATION I HELPED YOU." Behold, now is "THE ACCEPTABLE TIME," behold, now is "THE DAY OF SALVATION" (2 Corinthians 6:2). Salvation is not just for us to enter heaven but it is also for us today. Have we each taken hold of that free gift of Salvation that God offers through Jesus Christ?
Verse 14
Wait for the Lord; Be strong and let your heart take courage; Yes, wait for the Lord.
Waiting
Who likes waiting? No one… Well, not me at least. How do you feel when you have to wait? Happy? Scared? Bored? Worried? Excited?
What do you do when you have to wait? Play phone games? Read a book? Daydream?
"Wait for the Lord"
It's written twice, it must be important. Can you recall of any other verses that mention "wait on the Lord"? "Though youths grow weary and tired, And vigorous young men stumble badly, Yet those who wait for the Lord Will gain new strength; They will mount up with wings like eagles, They will run and not get tired, They will walk and not become weary." (Isaiah 40:30-31)
Can you recall any people in the Bible who didn't wait? Abraham (son Ishmael), Aaron (golden calf), Saul (sacrifice). Each time, the results were catastrophic.
"Wait" here is more about eager expectation; to wait and hope (待ち望). Remember the setting: David isn't waiting for a bus here. His life is in imminent danger and David is waiting for God to save him. Waiting is hard and can even be scary at times.
Be strong and let your heart take courage
Depending on the translation; It might say, "Be strong and take courage" or "Be courageous and God will strengthen your heart"
And not only this, but we also exult in our tribulations, knowing that tribulation brings about perseverance; and perseverance, proven character; and proven character, hope; and hope does not disappoint, because the love of God has been poured out within our hearts through the Holy Spirit who was given to us. (Romans 5:3-5)
For us today: Practical points on waiting on the Lord
This is a taken from George Muller's "Answers to Prayer" about strengthening Christians' faith:
"Ask God" (not surprising the first point from man know best as a man of prayer)
Carefully read and meditate on God's Word
"Maintain an upright heart and good conscience"
Muller recommends believers not to avoid opportunities that might test our faith… Because God can use the trial to strengthened a believer's faith
The final point is that while we wait on God that "we let God work for us … and do not work a deliverance of our own. Wherever God has given faith, it is given, among other reasons, for the very purpose of being tried… Now when the trial of faith comes, we are naturally inclined to distrust God, and to trust rather in ourselves, or in our friends, or in circumstances… We will rather work a deliverance of our own somehow or other, than simply look to God and wait for His help… [But] were we to stand still, in order to see the salvation of God, to see His hand stretched out on our behalf, trusting in Him alone, then our faith would be increased, and with every fresh case in which the hand of God is stretched out on our behalf in the hour of trial of our faith, our faith would be increased yet more."
Some Questions For Us
When facing a difficult task or trial, are we asking God to teach us the right way or are we only leaning on our own understanding and looking for a quick fix?
When confronted with false accusations, do we heavily rely on earthly weapons/methods to fight our accusers or are we depending on the Lord to defend us?
When overwhelmed, do we give into despair and give up or do we redouble our faith that God will surely help us.
When waiting on the Lord, are we actually working out our own deliverance or instead patiently standing still to see God at work in lives?
If you are troubled by your answer to any of these, are we willing to ask God to help you in these areas?
Closing
Waiting on the Lord can actually be hard work but it's well worth it. We can grow strong and courageous in the journey. Wait on the Lord.