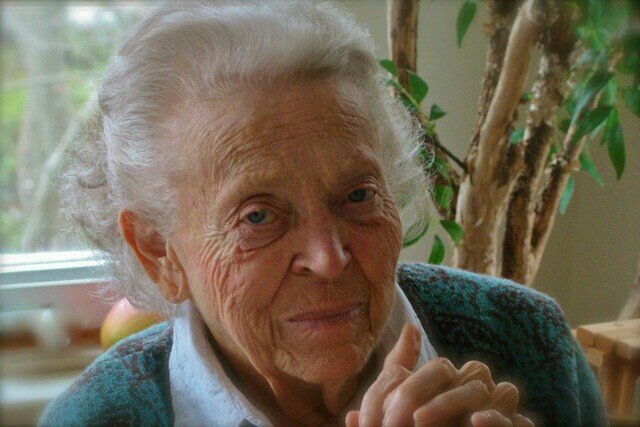 I found that a woman I deeply respected, Elisabeth Elliot, died this week (June 15, 2015). Elisabeth Elliot lived a life that most of us can't even imagine. She moved to Ecuador as a young missionary in 1953 and married her husband, Jim Elliot, on the mission field. A few years later, Jim and others were killed by Waorani tribesmen. Elizabeth was alone with her infant daughter and was expected to return home to morn. Instead, she stayed in Ecuador and eventually moved into the Waorani village and lived among them until 1963. Her act of love and free forgiveness to the tribesmen had an amazing and livelong impact on them.
As a young Christian, I once had a chance to met Elisabeth Elliot. We crashed what we later learned was woman's seminar to met her in person. At the reception afterward, I approached her to greet her and give what I thought was a complement. I was told once that Jim and Elisabeth had strived to keep a sexually pure relationship before getting married. So, I said, "I was really encouraged to hear about you and Jim's romance." She then looked at me with that funny look grandmothers give to their grandchildren when they've said something stupid. She said, "Young man, have you read any of my books?" I sheepishly admitted no. She quickly retorted, "The book counter is right over there. I recommend 'Passion and Purity'." That was the end of our conversation.
I still think it's truth that God did indeed help them to have a sexually pure relationship before marriage. However, what I later learned was that Jim and Elisabeth's romance was not exact smooth and that there were a lot of bumps and hard feelings along the way before getting married. Jim had made the same kind of buffoon mistakes that any of us guys have make. I had put Jim Elliot on some kind of pedestal because he had been martyred and Elisabeth because of her act of love and sacrifice later. But as I read the many books published on their lives, the truth is that they were very much like you and I. The difference was a life fully committed to Christ; trusting that He will lovingly provide for His children.
Jim and Elisabeth Elliot's lives were all about God's love in action. It's this level of commitment and passion that I'm pursuing to see in my life as well because of their example.
"I have one desire now – to live a life of reckless abandon for the Lord, putting all my energy and strength into it." – Elisabeth Elliot
"God always gives His best to those who leave the choice with him." – Jim Elliot
Here's a NY Times write up of her life that does better justice to the story than I can.
http://www.nytimes.com/2015/06/18/us/elisabeth-elliot-tenacious-missionary-to-ecuador-dies-at-88.html