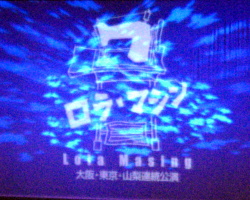 Last week, I attended a musical that one of the student at the college, Reina Takahashi, was performing in. The musical told the sad story of Lola Masing, a Filipino woman who was captured as a young girl by the Japanese invading forces in Antique in 1942.  At the age of only 13, she was forced for two years to be one of the so-called "comfort women" for the Japanese army. 
Honestly, I was not sure what to think before the performance with such a sad story to tell. But as I arrived, what first struck me was that it was a sold-out performance and that, with only few exceptions, the hundred member cast were all Japanese. I was touched by the sincerity of the composer and cast of the musical; the musical score and performance seems to fit the mood of the topic well. The acting and narration were very poignant and even needfully uncomfortable at times as the story unfolded (Thankfully, some of the performance was done in English so I could follow along rather well).
Rie Arima, who played the leading role, didn't seem to paint Lola Masing as a placid, iconic martyr but as a real person who lived through horrible events and who tried afterwards to stitch her life back to together and find joy again through her work as a seamstress and by constantly calling out to God and avoiding vengeance. And then in the later years of her life, she was able to pursue a cry for justice by presenting her case to the Japanese Government and finally before the Prime Minister during the International Military War Crimes Tribunal held in Tokyo in 2000. She concluded her testimony with this statement:
I am appealing to you, Prime Minister Abe, to acknowledge the truths we have told. This is the justice I have been longing and praying for. We are aware of Japan's efforts for peace but there can be no peace in this world unless there is justice. I hope justice will come before I die.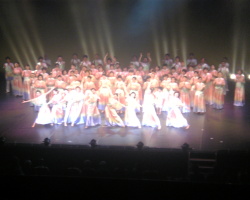 Sadly, Lola Masing died last year at the age of 78; never hearing the answer that she longed for. However, it seems this production was trying to now give her that answer… a message that we as human beings don't seem to ever want to say; "We were wrong and we need to do something about it."
Of course, the damage done to women like Lola Masing can never be fixed or undone. But to hear a people (even in a musical) crying out for such a moral change rekindles my hope that there is a nation of people in Japan who don't want to hide or ignore the wrongdoing of the past but who are longing to be free from the burden of sin and guilt.
Praise God that such a Savior can be found in Jesus Christ.