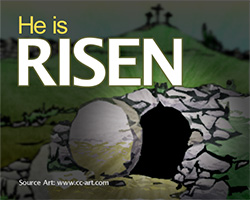 He is Risen! Hallelujah!
Today, we celebrate the greatest event in all of history. Think about it — Easter is what sets Jesus apart from anyone else who would attempt to steal God's glory or corrupt His message of redemption.
Yes, Jesus was a great teacher and model for us all. However, if Jesus had just died (even a martyr's death) and that had been the end of it, then how would we tell him apart from all the others? There have been many notable teachers and religious leaders before and since: Moses, Gautama Buddha, Confucius, Muhammad, Socrates, to name just a few. Yet with all their differing ideas, they do have one major thing in common — they are all dead. Some, like Socrates, even died for their beliefs.
However, unlike Socrates, Jesus was not politically maneuvered nor unwittingly trapped into corporal punishment. Only Jesus went so far as to actually prophesy his own death and what was to happen to him afterward. When he spoke on this, the crowds ,and even his own disciples, must have wondered at His words, and some must have even thought Him to be crazy … because, He spoke of coming back to life!
Then He took the twelve aside and said to them, "Behold, we are going up to Jerusalem, and all things which are written through the prophets about the Son of Man will be accomplished. For He will be handed over to the Gentiles, and will be mocked and mistreated and spit upon, and after they have scourged Him, they will kill Him; and the third day He will rise again."

But the disciples understood none of these things, and the meaning of this statement was hidden from them, and they did not comprehend the things that were said.
– Luke 18:31-34 (NASB)
Actually, it is the core of His teachings, and His prophecies, that all happened just as He said it would, including the most wondrous assertion of them all… his resurrection. His resurrection proved, in fact, that Jesus was, as He said He was, the Son of God. So, what does it all mean? Was Jesus just showing off? By no means! Just as the cross gave us, who believe, the forgiveness of our sin; this resurrection gives us a new life!
Therefore we have been buried with Him through baptism into death, so that as Christ was raised from the dead through the glory of the Father, so we too might walk in newness of life. -Romans 6:4
Of course, we are not just talking about these few decades, which we are now shuffling along in, on this earth, but a life eternal.
If we have hoped in Christ in this life only, we are of all men most to be pitied. But now Christ has been raised from the dead, the first fruits of those who are asleep. For since by a man came death, by a man also came the resurrection of the dead. For as in Adam all die, so also in Christ all will be made alive. – 1 Cor 15:19-22 (NASB)
He is risen; just as He has said! Hallelujah!
Happy Easter!