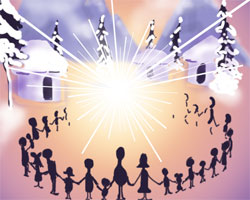 (Photo: My rendition of the Who-ville Christmas Morning)
…And the Grinch, with his grinch-feet ice-cold in the snow,
Stood puzzling and puzzling: "How could it be so?
It came without ribbons! It came without tags!
"It came without packages, boxes or bags!"
And he puzzled three hours, `till his puzzler was sore.
Then the Grinch thought of something he hadn't before!
"Maybe Christmas," he thought, "doesn't come from a store.
"Maybe Christmas…perhaps…means a little bit more!" …
– Excerpt from "How the Grinch Stole Christmas" by Dr Seuss
This year, few friends in the States have asked me how we celebrate Christmas here in Japan. I think they were surprised to my response.
First, keep in mind that Dec 25 is not a national holiday; for most folks, it is a normal work day. So as a general rule, Japanese don't seem to celebrate Christmas as pervasively as Americans or people from other countries do. Also historically, Christmas hasn't been openly accepted until about 1870. During the Meiji Reform Era of the late 1800's, Japan opened it's doors to foreign trade and ended the 245 year national policy of Christians persecution. During this time, it is thought that Japan might have been motivated to acknowledge Christmas to increase acceptability in the international community.
So based on my personal observations, what would Christmas look like in a typical home? Usually some families with young children may have a special chicken dinner and cake on Christmas evening with maybe a few presents. Actually, outside Christmas lights can be seen on a few of the newer houses recently. Strangely, Christmas Eve is considered one of the most romantic evenings of the year for young dating couples; not sure what that has to do with Christmas though. The whole event reminds me of the Chinese New Year celebrations back in Baton Rouge; a curious event that a small group actually participate in and the rest of the crowd attends only as a happy diversion and entertainment.
On a personal level, what is interesting is that these past years I have had time to really think about how I was going to celebrate Christmas: without a tree or twinkly lights; without extravagant gift-giving or the necessary shopping; without family or even a nationally recognized holiday to celebrate the day. (However truth be told, a number of church families have been kind enough to invite me to their celebrations during the Christmas week.)
So with many of the recognized trappings of Christmas stripped away, it reminds me very much of that Doctor Seuss Christmas special.
Yes, I do celebrate Christmas ever year. I do so by reveling in the fact that the Holy Righteous Creator of all would love us so much to send us His most precious gift; His Son. And that Jesus, one with the Father, would subject Himself to be emptied into a helpless moral infant of lowly birth to live a sinless life and be the Perfect Sacrifice for our sins and then risen again as our Victor over sin and death. What a thing to celebrate!
"Maybe Christmas," he thought, "doesn't come from a store.
"Maybe Christmas…perhaps…means a little bit more!"
I hope that each of you have the most joyous of Christmas' this year.
Related link | http://search.japantimes.co.jp/cgi-bin/nn20071218i1.html