Instructor: Dr. Craig Ott
Trinity Evangelical Divinity School, Associate Professor of Mission and Intercultural Studies
http://www.tiu.edu/divinity/academics/faculty/ott
2007/11/08 (Rough Notes)
Coaching
Coaching for Performance – John Whitmore
Goals – Vision, Prayer Goals, etc.
Reality – Challenges, Obstacles
Options – What can be done to close the gap between Goals & Reality. (Coach would provide resources to help)
Will – Who, what, when, where? Action Points
Coaching is more like providing a resource than the directness of teaching. However, maybe more teaching is needed in some places.
Establishing the responsibility of the relationship. Accountability to the tasks. If the person is not following through on the action points then there is a time to address whether the goals are not realistic or the person wasn't being faithful to complete the task.
Developing, empowering, then releasing into ministry. (Being too controlling kills this)
Coaching is built on a relationship. Lack of interest or lack of acceptance (or the appearance of that) will hinder the effectiveness of the process.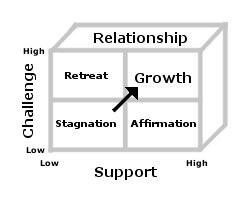 Mentoring
Closer relationship created to help another person to grow spiritually
Relationship – Imperative. You have to be genuinely concerned that the person grows, successes, and becomes what God wants them to be.
Challenge – "No pain; no gain" Increasing their faith in God but not overwhelming them. Most want more of God and to be used by God but feel inadequate and fear they would fail.
Support – Side by Side. Challenge without support kills growth