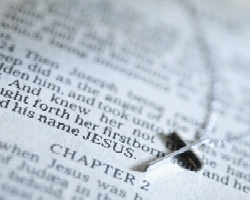 What does God do to get your attention? Does He call out to you with a big booming voice from heaven with claps of thunder and the ground quaking? … No? … Me neither.
For me, I have noticed that often times God gets my attention by bringing a particular bible passage to me in different ways and from different people. One of the first time this happened was when I trying to make a rather life changing decision about ten years ago. Within about a week, I had several people from different churches (one didn't even know my situation) share the exact same verse with me and offer a similar interpretation of that verse. Honestly, I didn't know what to think at first… it felt as if everywhere I went I was hearing the same thing.
I later learned that when God wants to make a point in the bible that He often repeats Himself for emphasis. For example Psalm 27:14 says, "Wait for the LORD; be strong and take heart and wait for the LORD." OK, obviously God is saying here that we should really "Wait on the LORD."
So recently, it seems that God has been trying to get my attention again by giving me the following passage:
Why are you downcast, O my soul?
Why so disturbed within me?
Put your hope in God,
For I will yet praise Him,
My Savior and my God.
– Psalm 42:5-6a (NIV)
This was a bit of shock because (as you might have read in my last few entries) I have really seen God in action in several mishaps that I found myself in recently. However as I stop to look around, I see that I also have lots of excuses to be downcast recently (although it would do no good listing them here). The point is that I have no reason to be downcast because of the living hope that we have found through the resurrection of Jesus Christ from the dead. (1 Peter 1:3) So, I will choose to praise Him, my Savior and my God.
So, keep your ears open… maybe God is trying to get your attention as well.