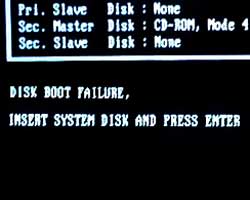 (Photo: "Ah, that's not good"… a dramatic recreation of my Monday afternoon escapade)
Wow, what a week. Monday was my birthday and I received a birthday present that I didn't understand until this Friday how great it was. Monday afternoon, Wendy, our computer teacher, walks in looking anxious and says that all the computers are locked up. I go to the server and find "Hard Disk Failure" on the screen… Ah, not good.
Anyway, to shorten the story, all the cool, techie things that we usually do to prevent this type of thing from happening failed to work for one reason or another. And I found myself in the same position I was a few weeks ago when stuck at the wrong airport in Houston. So, what else could I do? Again, I cried out to God. Actually, coworkers joined in. We were having little prayer meetings all over the place ask God to give us the wisdom and strength to fix the problem and His grace in the areas that we couldn't fix.
So, did God miraculously zap the server and it was fixed? Nope. But, He was at work to bless us in so many ways when we didn't think things would work out. By Friday afternoon, we are now in a position that we can make it until summer break when we will overhaul the whole system.
On a personal level, I felt I was in the eye of the storm; all these problems were flying around me but I was at peace… well, most of the time. For example, I was working some crazy hours and wondering how I could be doing it. I have pulled all-nighter before but I paid heavy for it the next day. But this time I didn't feel it. I recognized that I was tired and I might take a nap but it was if I wasn't really suffering from the lack of sleep.
People were unusually supportive and some even mentioned that I was even encouraging them by my kind words… OK, broken server and no sleep does not add up to kind, encouraging words… that is the recipe for burned out, hysteria in my book. What is going on? My only answer is through my weakness God was revealing Himself strong through me. It is actually quite a humbling thing. There is no room for me to boast here. I couldn't do what I did last week and others admitted they couldn't do it either.
It was simply a work of God … and the best birthday present that I ever had.