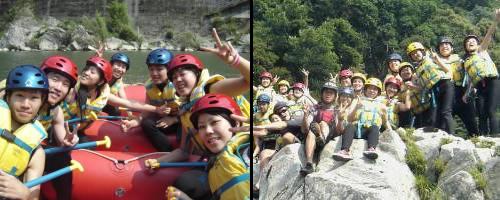 This is from a talk I gave during a CrossRoads event on 2005/10/21.
Introduction
This summer, CrossRoads Cafe had a weekend in Koichi, Shikoku at Happy Raft Campgrounds. We enjoyed river rafting, beautiful scenery, a great barbeque, and time with friends. On Saturday, we went the Iya Valley and saw the Iya Kazurabashi or Vine Bridge. This is a 45-meter-long, 14-meter-high bridge made of vines that swing when you walk on it! Did I walk across it? Yes. But some others… had problems.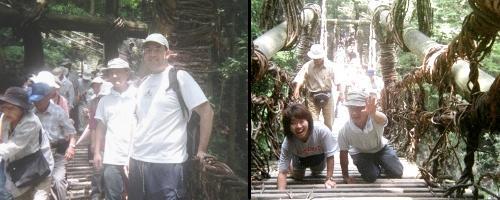 The "Old Swinging Bridge"
This bridge reminds me of another one called the "Old Swinging Bridge," that I crossed when I lived in America 5 years ago. It's at Camp Istrouma in Louisiana about 130 kilometers northwest off New Orleans. You might remember that New Orleans was the city that was recently flooded this August because of the Hurricane Katrina. In October, 2000, a number of high school and college students from the church I attended and I stayed at the camp for a weekend.
Saturday morning before breakfast, I was out for a nature walk and I came to the "Old Swinging Bridge."The only way to walk on the nature trail was to cross this bridge.
Of course, all swinging bridges like this move when you walk on them; that's part of the fun. But the problem was that that bridge was really scary; it was like something you would see in a movie. Although, it was shorter and a lot lower that the Iya Kazurabashi, the wooden planks were very old and bleached gray with the sun and the cables and steel-supports were all pitted with corrosion and covered with flaking rust. The thin rusty cables groaned and creaked as you put your weight on it and the old boards would crack loudly as you would step on them.
Stuck
Less than halfway across, I stopped because I had become too frightened to move. I didn't want to go backwards and be defeated by my fear. But I couldn't just stand there because I was too embarrassed to be found by someone while I was trapped by fear. And I couldn't move forward either. I was stuck!
Then, I remembered my friend, David Brignac. David runs the camp and he and his sons built and maintain the bridge. As I thought about my friend, I realized that he won't want anyone to be hurt at his camp. This meant that he would have built the bridge strong enough for anyone to cross and he would check the bridge regularly and repair any problem he found. So, although the bridge still looked, sounded, and felt like it would collapse under my weight; I knew it wouldn't because I trusted my friend, David. As I thought of that, I begin crossing the bridge … although still slowly.
The Lesson
As I was finally able to cross the bridge, I felt that God was teaching me that my life as a Christian is similar to that bridge. Although, things look bad at times, He has built a way for me to go and He will make sure that I can get there. I didn't understand why I was learning this until two days later on Monday. That morning, I was surprised to find that I was fired from my job. And I had a very difficult time finding permanent work for a year.
But through that year, I trusted God would help me. Although I didn't have permanent work, I always had some type of job and even kept some money in savings. I don't have time to tell you all the details but that year God prepared me and provided a way for me to live and work in Japan!
Jeremiah 29:11-13 says: "For I know the plans I have for you," says the LORD. "They are plans for good and not for disaster, to give you a future and a hope. In those days when you pray, I will listen. If you look for me in earnest, you will find me when you seek me."
I can say that this is very true in my life.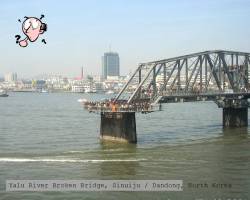 Warning
Do you find this little story encouraging? Good! But, I should warn you that it can really only be an encouragement if you are a Christian. Why? Well, think of it this way. In life there are many paths we can choose; like bridges.
We can choose the way that seems to only provide pleasure and comfort; it is easy to follow but I think we all know that it doesn't go anywhere!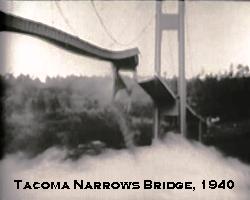 We can choose the way that seems to lead to wealth and fame. It's like trying to build your own bridge across a great chasm; could you do it? It might look like this. It's risky and if we can get across, many before us have found a surprising fact; you never reach your goal! There is a story that says that J.D. Rockefeller, the richest man of his time, was once asked a "How much money do you need to be happy?" He replied, "Just one dollar more." What a meaningless existence!
We can choose the way that looks the safest; it looks safe, but is it? Can you predict the future? And no matter which you choose, the biggest question is where do you end up in the end?
Let's look at that passage again: "For I know the plans I have for you, says the LORD. They are plans for good and not for disaster, to give you a future and a hope. In those days when you pray, I will listen. If you look for me in earnest, you will find me when you seek me."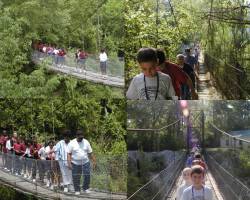 There is another way, one that looks impossible to do at first; so, many chooses not to even try. This is the way that is prepared by God and maintained by God and that leads us to Him. This is your surest bet! The greatest, safest, and most enjoyable place to be is where Our Creator God wants us to be; on His way seeking after Him.
Ending
What bridge are you on? Can you trust any bridge that God doesn't build? You are at a crossroads, now is a good time to think about it. Feel free to ask the Christians around you about what God has done in their lives and make a decision for yourself.
Photo Thanks
Old Swinging Bridge: Camp Istrouma
Sinuiju/Dandong Broken Bridge: Travel-Earth.com – North Korea
Tacoma Narrows Bridge Collapse Video: Archive.org – Stillman Fires Collection