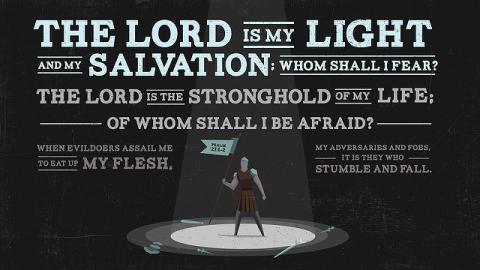 What causes you fear or dread?
Approaching danger, Loss, Humiliation, Death?
How do you typically respond to these things?
Freeze, Run away, Panic, or Attack?
King David seemed to be a fearful situation regularly.
Today, let's look at his response.
Introduction
What causes you fear or dread?
Here is a list of some rather common things that cause us fear:
Any approaching thing: danger, injury, sickness… or even school assignments
Loss: of love, of control, of liberty, of safety
Humiliation: failure, criticism
The dark: the unknown, the unpredictable
Death: physical, mental or spiritual
How do people typically respond to these things?
Freeze in place
Run away
Panic and act totally irrationally … this can be really bad
Attack the thing until it's destroyed
King David seemed to be a fearful situation but what was his response?
"…My heart will not fear… I shall be confident." (verse 3)
Assuming he's telling the truth, how could he say that?
David was handsome guy, a skilled warrior, and (when needed) very cunning.
He had on his side his thirty mighty men and later the full strength of Israel's army
But none of that is written here. Why he could stand without fear and remain confident?
King David's confidence seems to be based on…
Who God is
What God had done and is doing
What he was trusting God to do
Focusing on: Who God is
The Lord is my light and my salvation; Whom shall I fear? The Lord is the defense of my life; Whom shall I dread? – Psa 27:1
Lord is a personal God
See the regular use of "My"
This more apparent in later verses
Lord is my Light
Casts out darkness, allows you to see and understand
Then Jesus again spoke to them, saying, "I am the Light of the world; he who follows Me will not walk in the darkness, but will have the Light of life." – John 8:12
Lord is my Salvation
Saved from death or injury or defeat but also, of course, spiritual salvation as well.
"And there is salvation in no one else; for there is no other name under heaven that has been given among men by which we must be saved." – Acts 4:12
Lord is my Defense
Like an defense attorney? Well, Yes…
"But if anyone does sin, we have an advocate before the Father — Jesus Christ, the Righteous One." (1 John 2:1) … Also defend against Devil's accusations (Romans 8:33-39)
But also our protector…
"God, my strength, I am looking to You, because God is my Defender. My God loves me, and He goes in front of me. He will help me defeat my enemies" (Psalm 59:9-10 NCV).
The Point
Before we find ourselves in a fearful situation, let's make sure we know the character of God and the relationship we have with Him
Focusing on: What God had done and is doing
King David was surrounded with real danger but it never reached him
When evildoers came upon me to devour my flesh, My adversaries and my enemies, they stumbled and fell. – Psa 27:2
Apostle Paul in the midst of his struggles expressed something similar.
We are afflicted in every way, but not crushed; perplexed, but not despairing; persecuted, but not forsaken; struck down, but not destroyed; – 2 Cor 4:8-9
Ultimate proof: God sent Jesus to free us
Therefore, since the children share in flesh and blood, He Himself likewise also partook of the same, that through death He might render powerless him who had the power of death, that is, the devil, and might free those who through fear of death were subject to slavery all their lives. – Hebrews 2:14-15
The Point
So, instead of fear we can have confidence that our God who has proven Himself over and over throughout the generations and in our own lives will continue to do so.
How can we? Because of His character and great love for us through His son, Jesus Christ.
Focusing on: What he was trusting God to do
King David was trusting God would save and defend him
For in the day of trouble He will conceal me in His tabernacle; In the secret place of His tent He will hide me; He will lift me up on a rock. And now my head will be lifted up above my enemies around me… – Psa 27:5-6
A thousand may fall at your side And ten thousand at your right hand, But it shall not approach you. You will only look on with your eyes And see the recompense of the wicked. For you have made the LORD, my refuge, Even the Most High, your dwelling place. – Psa 91:7-9
God has allowed himself to be a place of refuge for His people.
You might say "No problem; I don't have enemies"
Personally, Psalms made me uncomfortable as a young man because I was always trying to be everyone's friend. It was hard to imagine being surrounded by enemies
For our struggle is not against flesh and blood, but against the rulers, against the powers, against the world forces of this darkness, against the spiritual forces of wickedness in the heavenly places. – Eph 6:12
So although I pray that no one here ever experience war first-hand, as Christian we must acknowledge that we are part of the spiritual battle that is going on around the world for millennia.
That may or may not come as a shock to you. But either way, remember that, as we are learning here, God can save and protect you.
The Point
David is expecting for God to perform the most of the work here. David is only responding to what God is doing.
He is seeking salvation and defense from the Lord Himself
This is not to say that we will never go through struggles. But we can trust in God to help and protect us so that we can stand firm in any situation.
Freed from fear, what was King David's desire?
He boldly asks for another favor
One thing I have asked from the Lord, that I shall seek: That I may dwell in the house of the Lord all the days of my life, To behold the beauty of the Lord And to meditate in His temple. – Psa 27:4
David could do this because he know who God is and knew God would be pleased with this request. It's not surprising that he was called a man after God's own heart. Is it?
Dwell in the house of the Lord all the days of my life
Where was this house? There was no temple built yet
Even still, since David was not a Levi he wouldn't be allowed to serve there
As we read in Psalms 91, this is not a physical place but a spiritual one where God Himself lives.
This is a very personal request that you might only expect from a family member
For all who are being led by the Spirit of God, these are sons of God. For you have not received a spirit of slavery leading to fear again, but you have received a spirit of adoption as sons by which we cry out, "Abba! Father!" The Spirit Himself testifies with our spirit that we are children of God, and if children, heirs also, heirs of God and fellow heirs with Christ, if indeed we suffer with Him so that we may also be glorified with Him. – Romans 8:14-17
To behold the beauty of the Lord
All he was asking from God is to be with Him and see His beauty
Again we are not talking about carved doors or gilded cedar pillars and ceiling.
If God is spirit and has no physical form, what is David wanting to see?
Holiness, Righteousness, Purity, Glory…
And to meditate in His temple
The Lord is my Light
To seek understanding.
To know the Lord deeply
David's response
… And I will offer in His tent sacrifices with shouts of joy; I will sing, yes, I will sing praises to the Lord. – Psalm 27:6
As he sees God answering his prayers, he responds in joy, thanksgiving, praise.
The Point:
If we are God's children, we have a dwelling place prepared for us and we should seek it.
Just like David, we should knew that the best place to be in a spiritual battle is in God's presence
We should respond to our deliverance with joy, thanksgiving, praise.
Some Questions For Us
Are we daily meditating on who God is?
Are we regularly reminding ourselves what God had done and is doing in our lives?
Are we trusting God to do what He has promised to do?
Are we daily seeking to be near God and to know Him deeply?
Are we constantly rejoicing in His presence?
If the answer is "no" to any of these, are we willing to ask God to help us in these areas?
Closing
This month marks the 70th year memorial of the German Holocaust.
It seems best to end with a quote from Corrie ten Boom, a Dutch Christian who was imprisoned for helping many Jews escape the Nazi Germany.
"There are no 'if's' in God's world. And no places that are safer than other places. The center of His will is our only safety – let us pray that we may always know it!"